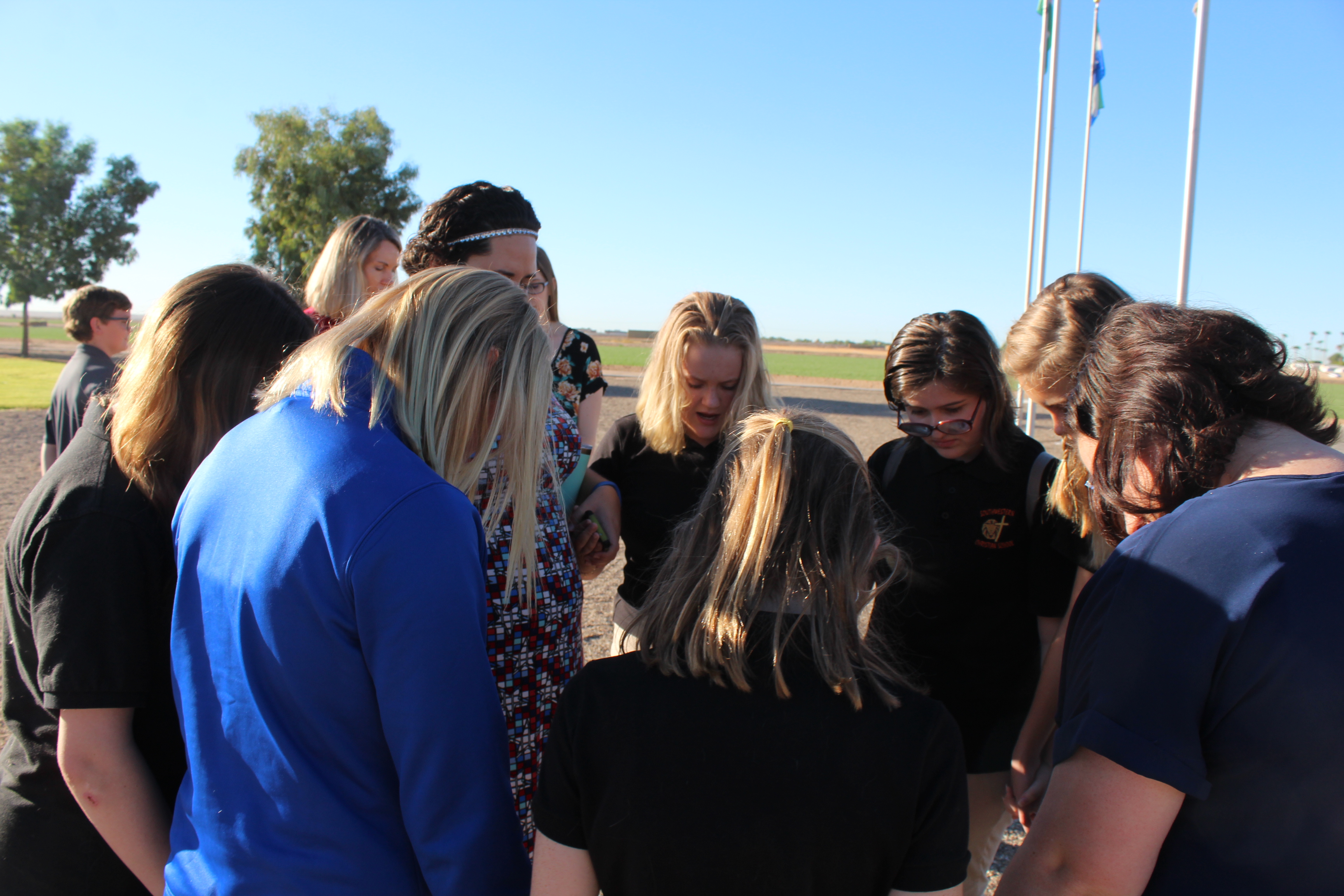 Statement of Faith
We believe that there is hope and a future for our children. Christian education imparts a Biblical world and life view and prepares students to fulfill the purpose of God in their generation. SWCS of Yuma is a body of believers that has joined together for the purpose of academic progress, personal development, and spiritual growth.
Together we seek to honor God by integrating faith and learning while our hearts and lives reflect the process of maturing in Christ. When families join SWCS, they understand that the spiritual development of their child is just as important as their academic progress.
We believe that, "All Scripture is given by inspiration of God." The Bible is the inerrant Word of God and is the final and sole authority for all Christian life and practice. The Holy Spirit guided the writers in all they wrote. II Timothy 3:16; Deuteronomy 4:2; II Peter 1:21.
We believe the Godhead eternally exists in three Persons: the Father, the Son, and the Holy Spirit. Matthew 28:19; I Corinthians 8:6; II Corinthians 13:14; I Peter 1:2; Ephesians 3:9-17.
We believe in the deity of our Lord Jesus Christ, in His virgin birth, in His sinless life, in His miracles, in His vicarious and atoning death through His shed blood, in His bodily resurrection, in His ascension to the right hand of the Father, and in His personal return in power and glory. John 1:1; John 1:14; John 10.
We believe in the personality and deity of the Holy Spirit, Who indwells in every baptized believer and is ever present to testify of Christ, seeking to occupy us with Him. We acknowledge the ministry of the Holy Spirit, Who convicts, regenerates, indwells, enlightens, and empowers believers for Godly living. John 14:26; John 15;26; Acts 1:8; Romans 8:26-27; I Corinthians 2:12, 14; Romans 8-9; I Corinthians 3:16; John 16:13-14; Acts 2:38.
We believe that man was created in the image of God, that he sinned in Adam and that he is now a sinner by nature and by choice. Man must receive a new nature by faith in Jesus Christ, implanted by the Holy Spirit through the Word of God in order to gain eternal salvation. Genesis 1:26; Romans 5:12; John 3:3-7; Ephesians 2:1-3; John 5:24, Titus 3:5.
We believe in salvation by grace through faith in Jesus Christ (faith leads to repentance, confession, and baptism), apart from any human merit or works, and that through faith in Christ, one passes immediately out of spiritual death into spiritual life. John 5:24; Romans 3:28; Galatians 3:25-29; Ephesians 2:8-10; Romans 10:9-13; Matthew 28:18-20.
We believe that the church is the spiritual body of which Christ is the head. The church is composed of all those who truly believe in Jesus Christ as personal Savior, who are to "keep the unity of the Spirit in the bond of peace, " rising above denominational barriers, loving one another, and "holding the truth in love...being held together by that which every joint supplies." Ephesians 4:2-6; Ephesians 4:15-16, Ephesians 2:19-22; Ephesians 1:22-23; I Corinthians 12-13; Romans 12:4-5, I Corinthians 1:10.
We believe that all true believers are called to a life of separation from worldly and sinful practices and should abstain from that which would bring reproach upon the name of Christ. Christian are to be "salt and light" in the world. Colossians 2:6-8; I Corinthians 6:17; I Corinthians 10-23; I Thessalonians 5:22; Titus 2:11-12; Ephesians 2:10; Matthew 5:13-16.
We believe in the evangelization of the world, in other words, that the supreme mission of the people of God in this age is to preach the Gospel and to make Christ known to every one. Mark 16:15; II Corinthians 5:18-19; Matthew 18:14; Matthew 28:19-20.
We believe in a literal heaven and hell. WE believe in the controlling and greater power of God but also in the reality and power of Satan, the deceiver. Matthew 6:20; Luke 10:20; Luke 23:43; II Corinthians 5:1; Ii Corinthians 12:2-4; Revelations 2:7; Proverbs 23:13; Matthew 5:29; Matthew 10:28; Matthew 18:8-9; Matthew 25:28-30, 41, 46; Genesis 3:1; Chronicles 21:1; John 12:31; Acts 5:3; Acts 26:18; II Corinthians 2:11; Ephesians 4:27; Ephesians 6:11; James 4:7; Revelations 12:9; I John 4:4.
We believe in the personal return of our Lord Jesus Christ and that this second coming of Jesus Christ is the "blessed hope" that is set before us that we are continually looking for. Titus 2:13; Acts 1:11; I Thessalonians 4:16-17; John 14:1-3.
We believe that God wonderfully and immutably creates each person as male or female. These two distinct, complementary genders together reflect the image and nature of God. Genesis 1:26-27. Rejection of one's biological sex is a rejection of the image of God within that person.
We believe that the term "marriage" has only one meaning: the uniting of one man and one woman in a single, exclusive union, as delineated in Scripture. Genesis 2:18-25. We believe that God intends sexual intimacy to occur only between a man and a woman who are married to each other. I Corinthians 6:18; 7:2-5; Hebrews 13:4.
We believe that any form of sexual immorality (including adultery, fornication, homosexual behavior, bisexual conduct, bestiality, incest, ad use of pornography) is sinful and offensive to God. Matthew 15:18-20; I Corinthians 6:9-10.
We believe that in order to preserve the function and integrity of Southwestern Christian School as a local Body of Christ, and to provide a biblical role model to the SWCS students and the community, it is imperative that all persons employed by SWCS in any capacity, or who serve as volunteers, agree to and abide by our Statement of Faith. Matthew 5:16; Philippians 2:14-16; I Thessalonians 5:22.
We believe that God offers redemption and restoration to all who confess and forsake their sin, seeking His mercy and forgiveness through Jesus Christ. Acts 3:19-21; Romans 10:9-10; I Corinthians 6:9-11.
We believe that every person must be afforded compassion, love, kindness, respect, and dignity. Mark 12:28-31; Luke 6:31. Hateful and harassing behavior or attitudes directed toward any individual are to be repudiated and are not in accord with Scripture or the doctrines of SWCS.